Andrew Kingsriter, a Lutheran Volunteer Corps member at SFC Member El Centro de la Raza Food Bank, reflects on his year of service.
Greetings! My name is Andrew Kingsriter and I am completing a year serving as the Foodbank Coordinator at
El Centro de la Raza
. I am working here at El Centro as a part of the
Lutheran Volunteer Corps
(LVC), a yearlong service program that places volunteers with non-profit organizations throughout the United States. The foodbank at El Centro serves the diverse Beacon Hill neighborhood as well as the greater Latino community within Seattle. Over the course of the last year we have seen a steady amount of traffic coming into the foodbank. This story is not unique to El Centro; it has being repeated all across the city and county. The steady use of emergency human services continues to demonstrate the critical need for continued support for these programs at all levels of government.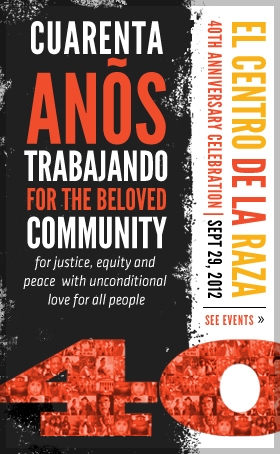 In addition to the foodbank, El Centro has several other food related programs including; a free community meal every weekday from 12-1pm, a senior program that includes a four times weekly congregate meal and home deliveries, and a
summer meals site
offering free breakfast and lunch for children under the age of 18. As the diversity of these programs demonstrate, they serve a need felt at all levels of the community. I think one of the best parts about El Centro is that it has a seemingly unconscious ethic of removing the stigma attached to receiving human services. Especially in regards to something as basic as food, I think El Centro really does try hard to remove feelings of inadequacy or un-worth that can accompany receiving these types of services. Over the course of my time at El Centro, I have come to better understand how important that ethic of inclusion is. It is easy to give out food, but to make people feel included and welcoming them into building meaningful relationships is the where the real work begins.